The 2021-2022 school year begins on:
Wednesday, July 21, 2021
On the first day of school students follow a special minimum day schedule (see below) and receive a copy of their full class schedule in their Advisory class.  Students can find their Advisory class by referring to posters displayed throughout campus.  BVM Staff will be available to help all students and answer questions.
Please plan to arrive on campus early and take traffic into consideration.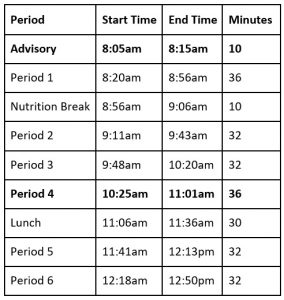 ——
Still need to complete your registration?  Please click below: